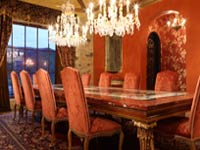 Whether you need help designing one special piece of furniture, updating a single room in your home, remodeling your entire home or building from the ground up, Elaine Culotti Design is your resource to create both beauty and livability. READ MORE....
The Porta Bella Design Source factory is operated locally by the Culotti family. The expert carpenters, carvers, and finishers have the ability and experience to create the finest quality furnishings tailored exactly to your needs and specifications. READ MORE....
While many designers have vision and talent, there are few with Elaine's breadth and depth of experience. With over 10 years experience managing remodels and construction projects, Elaine Culotti, with her team of professional electricians, plumers, painters, and craftsmen of all types; is able to move a project all the way from dream to reality.